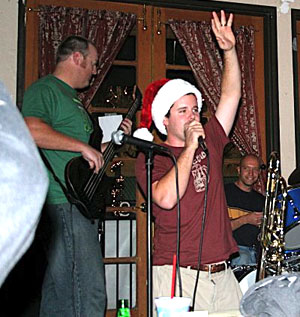 Bouncing out of the deserts of Southern California comes a six-some with a song in it's collective heart. Although the sun, sand, and lack of water have permanently scarred our brains we still make the children sing. We have been banging out tunes for the past five years in our homespun studio and passing out recordings to friends, foes, and family alike. Our band consists primarily of six people. Me, That Guy, this guy, hairy guy, the Other Guy, and the Other guy with the same name, otherwise known as Uncle C., Big T., Big-Bob, Hairy-Wesley Jesus Sean, and Sean D...
My name is Uncle C., I play guitar, sing, produce the noise, and generally make people uncomfortable. Big T. plays bass, sings, and rescues lost children (he is a hero). Bob is a hard rockin' cheese fish. Wesley loves to bang on pots. Jesus Sean is the multi directional being who directs us into vegetable patches. Bringing up the rear is Sean. Sean plays drums, the spoons, pudding and is really quite talented at the lost art of straw sculpturing. Thanks for reading our little bio, and if you like our tunes be sure to email and let us know we for feedback.

2008 brings us a 36 track, lo-fi theatrical treat in Topiary Dreams. Uncle Cory writes "this one is for freaks." Feel lucky if you're a freak, this album is brilliant. Be prepared to be tickled and touched.
2007's In Your Ear! marks the introduction of two new members to the Hippie Cream family: Wesley the Peanut Vender and Bob of Erik's Animal fame. This is a polished and accessible offering, filled to the brim with Hippie Cream and the joy of being alive.
The Acoustic Heart of Dr. Strange (2004) is a collection of experiments and out-takes from an abandoned concept album. Definitely worthy of some time in your ears.
2003 gave us a treasured favorite, the science fiction concept album Space Fruit. This album is a quirky masterstroke, and not to be missed.
2002's Code Name: Cola is a mellow broadcast from the early years of Hippie Cream. Like glimpsing the features of his parents in a child's face, these songs hint and whisper at the future Hippie Cream sound.